About
Established by designer Eyal Soodai, Sooda-e design factory is a multi design studio, which operates in a variety of design projects. We integrate different materials and production technologies, with a functional yet fresh perspective, in every project, regardless it scale or title.
Our main services includes project management in:
Interior design for both business & private sector

Industrial design & development
In addition, our in-house design contains:
Inventive line of everyday products & accessories
(Available in design gift shop worldwide)
Custom made furniture & collections
(Please contact us for more info about our furniture availability)
………………………………………………………………………………………………………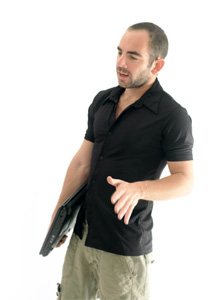 Eyal Sudai graduated The Holon Institute of Technology (HIT) in 2007 and holds a B.A. in design & interior architecture.
During the design studies, his works won design awards & prizes as well as the Excellence Scholarship from The Association of Architects in Israel, 2006
He began his internship at WSG Design & Architects in 2007 and established Sooda-Mayer Design studio with designer Keren Meir in 2008, providing freelance plan & design services
Eyal believes that becoming too streamline in the design field is nearly a paradox with this multiple choice world we live in, "The canvas is too big to ignore it.." therefore he sees every design challenge as an opportunity to venture, search, create & learn something new, about design and people